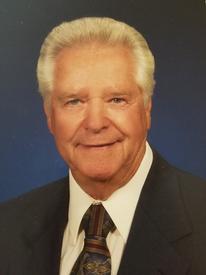 Girard "Jerry" M. Mandorca, 85, of Godfrey, passed away at 12:04 p.m. on Tuesday, April 18, 2017 at his home with his family by his side.
He was born July 5, 1931 in Newburn, IL the son of the late William and Alice (Gardner) Mandorca.
Jerry married Joyce J. Lewis on November 24, 1955 in St. Clair, MO. She survives.
Jerry worked as a machinist at Owens Illinois Glass for 38 years before retiring in 1993. He was a member of Calvary Baptist Church, the Alton VFW Post 1308 and a former Mason. He enjoyed golf, baseball, trap shooting, woodworking, and anything outdoors including fishing and boating. He was a musician from the age 14 until he was 82.
In addition to his wife, Joyce, he is survived by three children, Stacy (Michael) Harman of Bunker Hill, Brent (Lori) Mandorca of Edwardsville, Laurie (Sean) Robinson of Brighton; seven grandchild, Mark Harman, Jeffery Harman, John Harman, Nicholas Mandorca, Carley Link, Alex Robinson, Evan Robinson; three great grandchildren; two siblings, Myrna Mandorca, Colin (Jean) Mandorca.
Visitation will be held on Thursday, April 20, 2017 from 4 to 8 p.m. at Elias, Kallal and Schaaf Funeral Home in Godfrey.
Funeral service will be held at 11am on Friday, April 21, 2017 at the funeral home with Rev. Andre Dobson officiating.
Interment will follow at Valhalla Memorial Park in Godfrey with military rites performed by the Alton VFW Post 1308.
Memorials may be made to the American Cancer Society or the American Red Cross.
Condolences may be found online at www.eliaskallalandschaaf.com