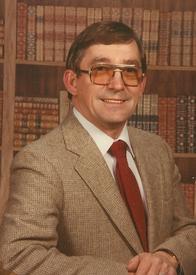 William "Bill" Cunningham, Jr., 83, died May 15, 2017 at Anderson Hospital in Maryville, Ill. He was born Sept. 24, 1933 in Worden, Ill. to William Henry Cunningham and Hazel (Oxley) Cunningham. He attended Worden and Staunton grade schools and later graduated from Litchfield High School. After being Honorably Discharged from the Army in July, 1955, he returned to Olin Corporation, where he had worked prior to the military.
He completed several courses of Statistical Quality Control and earned a degree in Industrial Supervision from the American Technical Society, Chicago, Ill. Bill retired from Olin Corp. as a Senior Product Analyst after 2 years of service. During his career, he was a Foreman or Supervisor in virtually every department in the Winchester Division.
He first married Norma Larcker on Sept. 27, 1952. He is survived by his son Arlin (Nancy) Cunningham of Brighton, daughter Dianna (Charles) Sheets of Naperville, and son Rodney (Ginger) Cunningham of South Roxana.
He later married Betty Leach on March 11, 1979. He is survived by his loving wife Betty, his stepdaughter Darla Leach of Wood River and stepson Dave Leach of Wood River, and step grandson Zachary Delude of Wood River. He is also survived by 11 grandchildren, 6 great grandchildren, 6 step grandchildren and 6 step great grandchildren.
Bill was a life member of the VFW Post #2859 and the American Legion Post #126. He was also a member of the Alton Eagles and the Southern Illinois Mustang Club. He enjoyed woodworking and was a Mustang collector.
Visitation will be Saturday, May 20 at Paynic Home for Funerals from 9 a.m. until services begin at 10:30 a.m.
Burial will follow at Valhalla Memorial Park in Godfrey.