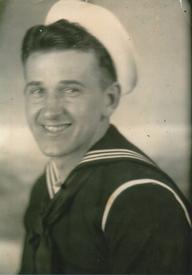 Donald Dirksmeyer, 95, of Kampsille, Illinois passed away at Calhoun Nursing and Rehabilitation Center June 15, 2017.
He was born on August 12, 1921 in Hamburg, Illinois, the son of Albert and Katie (Foster) Dirksmeyer.
Donald was a veteran of the United States Navy, enlisting in October, 1944 and serving until March, 1946.
Donald married Garnell (Cress) Dirksmeyer in April of 1941. He was a full time farmer and a member of the Kampsville American Legion Post 1083.
He is survived by: his wife Garnell of 76 years, one daughter Sharon Brangenberg, one son Richard Dirksmeyer of Virginia, IL, one sister, Jennie (Adam) Vetter of Jerseyville, five grandchildren, Jacki (Tracey) Dirksmeyer Leach of Manassas, VA, Dawn (Jim) Johnessee of Jacksonville, IL, Brent (Cathy) Dirksmeyer of Norfolk, VA, Cris (Kristy) Clendenny of Hardin, IL, and Carey Clendenny of Pleasant Hill, four great grandchildren Ashleigh Clendenny, Nick Tomlonivich, Matt Tomlonivich, and Emily Weed, two great great-grandchildren, Colton Tomlonivich and Wyatt Tomlonivich.
He was preceded in death by his parents, one son, Gary Dirksmeyer, one son-in-law Roy Brangenberg and five sisters, Darlene (Harold) Fox, Pauline (Cecil) Jones, Bernadine (Basil) Becker, Marie (Lynn) Lyman, and Betty (Gene) Reeves.
Visitation will be from 9:00 a.m. until time of funeral service at 11:00 a.m. Monday June 19, 2017 at Gress, Kallal, and Schaaf Funeral Home in Hardin with Reverend Paul D. Frazier officiating.
Burial will follow at Summit Grove Cemetery with Kampsville American Legion Post 1083 conducting full military honors.
Memorial contributions may be made to Summit Grove Cemetery or North Calhoun Ambulance.