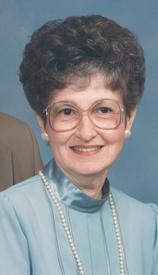 Melba "Jean" Roloff Elble , 86, passed away on Wednesday, June 14, 2017, 10:40 a.m. at Rosewood Care Center in Alton.
Born on January 4, 1931 in Deer Plain, Illinois, she is the daughter of the late John and Mary (nee: Brink) Gerdesmeyer.
She married Lathy E. Roloff on June 28, 1950. He passed away on February 25, 1980, and she later married John Elble in January,1981 and he preceded her in death on May 13, 2008.
Jean managed the three Alton area Moderne Beauty Salons for a number of years and later assisted her son and daughter-in-law at Roloff Decorating in Godfrey. She was a member at St. Ambrose Catholic Church in Godfrey, and a former long-time member at Saints Peter and Paul Catholic Church in Alton, where she served as a Eucharistic minister and was active in the Altar Society. One of her favorite joys was caring for her family and spending time with her grandchildren.
She is survived by:
A daughter and son-in-law: Denise and David Stafford of Godfrey
A daughter-in-law: Rhonda Roloff of Godfrey
A sister: Doris Mossman of Brussels, Illinois
5 grandchildren: Jason (Michelle) Roloff of Brighton, Justin Roloff of Alton, Joshua (Becky) Stafford of Lake St. Louis, Missouri, Dana (Heather) Stafford of Quincy, Illinois,
And Samuel Stafford of Godfrey
7 great-grandchildren: Brianna Roloff, Blythe Roloff, Brody Stafford, Ashlyn Stafford,
Tate Stafford, Dawson Stafford, and Brinna Stafford
Other extended family and many friends.
In addition to her parents, and two deceased husbands, she was also preceded in death by
her son Dennis Roloff, and two sisters: Cecelia Schlinker and Marie Roth.
There will be NO Visitation.
A Funeral Mass of Christian Burial will be celebrated on Monday, June 19, 2017 at 10am at Saints Peter and Paul Catholic Church in Alton with Father Jason Stone as Celebrant.
Interment will follow at St. Patrick Cemetery in Godfrey.
Memorials may be made to the Building Fund at St. Mary's Catholic Church in Brussels.
STATEN-FINE Funeral Home in Alton is in charge of arrangements.
An on-line tribute and guestbook may be found at www.staten-fine.com