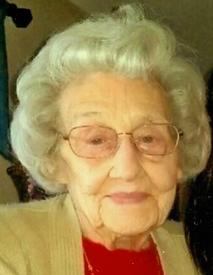 Jennie Ventimiglia, 95, of Wood River, IL, passed away at 11:55 a.m. Sat. June 17, 2017 at Eunice C. Smith Nursing Home in Alton, IL.
She was born Oct. 5, 1921 in Wood River to the late Sam & Anna (Gianino) Ferranto.
On June 20, 1943, she and Anthony J. Ventimiglia were married in Wood River. He preceded her in death Jan. 2, 2010.
Mrs. Ventimiglia had worked for Shell Oil in the business office before becoming a mother. She loved to read, sew, knit, crochet, cook, babysit and spend time with her grandchildren. She was a member of Holy Angels Catholic Church and Daughters of Isabella.
Survivors include 2 sons: Frank (Elvira) Ventimiglia of Rockford, IL and Sam (Roxanne) Ventimiglia of Normal, IL; 2 daughters: Jo Ann (Donald) Laird and Anna (Mark) Seymour of Rosewood Heights, IL; 13 grandchildren; 18 great-grandchildren; and 1 great-great-grandchild.
Besides her husband and parents, she was preceded in death by 2 brothers: Dominic and Frank Ferranto; and 2 sisters: Antoinette Workman and Mary Kinnard.
Visitation will be from 4:00 p.m. until 7:30 p.m. Wed. June 21, 2017 at Paynic Home for Funerals. Mass of Christian Burial will be at 10:00 a.m. Thurs. June 22, 2017 at Holy Angels Catholic Church with Fr. Donald Wolford as Celebrant. Burial will follow at Woodland Hills Cemetery.
Memorials may be made to Masses.
Arrangements with online information and guestbook through Paynic Home for Funerals may be found at www.paynicfh.com.