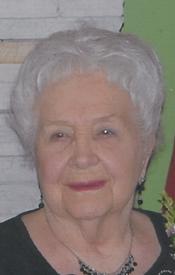 Golda 'Bernice' Brigman, 95, formerly of Hartford, passed away 10:38 a.m., Monday, July 10, 2017 at Oak Hill Care Center in Waterloo.
Born in West Frankfort, IL on September 23, 1921, she was the daughter of Eunice M. Wadeking.
Bernice had worked as a machine operator at the Smith and Wesson Company in Alton before she retired in 1976. She enjoyed outdoor activities, crafting and cooking. She had been a longtime member of the 1st United Methodist Church in Hartford.
On April 30, 1938 in Wickeclif, KY she married Finis Lee Brigman. He died June 6, 2006.
Surviving are two sons, James (Teri) Brigman of Hartford, Mark (Karen) Brigman of Columbia, IL; daughter, Sherry Lange of Bethalto; daughter-in-law, Susie Brigman of Glen Carbon; 10 grandchildren; 17 great-grandchildren; and nine great-great grandchildren.
Her mother; husband; son, Kenneth Brigman; son-in-law, Elwood Lang; and sister, Mary Lou Ourley preceded her in death.
Visitation will be from 4-8 p.m. Thursday and continue from 10 a.m. until time of service at 11 a.m. Friday at Marks Mortuary in Wood River. Her grandson, Rev. Kevin Brown will officiate.
Burial will follow in Wanda Cemetery in South Roxana.
Memorials may be made to St. Jude Children's Research Hospital.