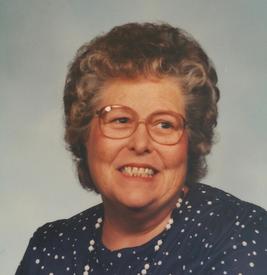 Charlotte Rae Tate, 86, passed away at 9pm on Wednesday, July 12, 2017, at Integrity of Wood River. She was born March 26, 1931 in Harrisburg, Illinois, the daughter of the late Ira and Gladys (Perry) Logan. She married Billy R. Tate on May 26, 1951, and he survives. Other survivors include a son and daughter-in-law: Dennis and Cindy Tate of Brighton, a daughter and son-in-law: Diana and Larry Kamp of Wood River, six grandchildren: Michelle, Christy, Jennifer, Larry Jr., Daniel and Jonathan, 14 great grandchildren, a brother and sister-in-law: Bud and Marcia Logan of Tennessee, a sister, Shirley Romonosky of Harrisburg, and a sister-in-law: Freeda Logan of Tennessee.
Charlotte was formerly employed as a cook for the Wood River – Hartford School District #15. She was a member of First Family Church of East Alton, Illinois, Ladies Missionary Society, Sunday School Teacher and church choir. She loved her family, grandchildren, and dogs.
In addition to her parents, she was preceded in death by a son: William Lee Tate, a brother: Jack Logan, and brother-in-law: Richard Romonosky.
In celebration of her life, visitation will be from 10am until time of funeral services at 1pm on Monday, July 17, 2017, at Pitchford Funeral Home in Wood River. Rev. Randy Vollmar will officiate. Burial will be at 10am on Tuesday, July 18, 2017 at Tate's Chapel Cemetery, Galatia, Illinois.
Memorials are suggested to Tate's Chapel Cemetery or First Family Church and will be accepted at the funeral home.