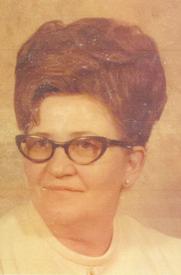 Former area resident, Ruby I. Hawes, 85, passed away 8:24 p.m. Wednesday, July 12, 2017 at Carrier Mills Nursing and Rehabilitation Center.
Born on May 15, 1932 in Bertrand, MO, she was the daughter of Lloyd and Mary Catherine (Baker) Metcalf.
She had worked in the shipping and receiving departments for Bussmann Fuse and later, Hawley Products before retiring.
Ruby had been a member of Bethel Freewill Baptist Church in South Roxana and Eddyville Missionary Baptist Church.
On February 11, 1947 in Charleston, MO, she married Harlia B. Hawes. He died September 8, 2005.
Surviving are four sons, Lloyd (Marsha) Hawes of Jerseyville, Harlia B. Jr. (Angie) Hawes of Collinsville, George Hawes (Jerry Moore) and Darrell Hawes (Susie) all of Eddyville; two sisters, Goldie (Bill) Allen of Ruma, Mary Braden-Moore of Mericopa, AZ; 10 grandchildren; 11 great grandchildren; a great-great granddaughter; two brothers, Raymond L. Metcalf of New Athens, Marshall H. Metcalf of Bertrand, MO; sister, Mary C. Keel of Highland; very special friend, Gayla Barger; several nieces and nephews and sisters-in-law.
Visitation will be from 4-8 p.m. Monday at Marks Mortuary in Wood River where services will be conducted at 11 a.m. Tuesday. Rev. David Malone will officiate.
Burial will follow in Wanda Cemetery in South Roxana.