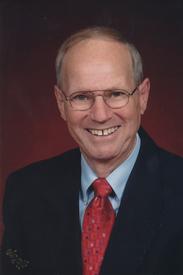 Woodrow L. Jordan, 84, passed away on Friday, July 14, 2017, at Christian Northeast Hospital.
He was born January 11, 1933, in Bethalto, Illinois, the son of Pete and Lucile (Newell) Jordan.
He married Henrietta Cwan on April 16, 1955, in Wood River, Illinois.
Woody's joy in life was spent being a devoted and caring husband as well as a wonderful father, grandfather, and great grandfather. Family was always his #1 priority. His goal in life was to make sure his family and his Lord knew they were loved beyond measure and he met this goal without fail.
Woodrow was a member of 1st Christian Church of Wood River where he held offices, was an elder, deacon, treasurer, and a Bible school teacher. He was also a member of the Bluff City Lodge #660 International Association of Machinist and Aerospace Workers, drove the Bethalto Senior Citizen van for 14 years, served on the Bethalto Zoning Board of Appeals for 11 years, and worked at Olin Corporation as a machinist for 44 years retiring in 1995. He also enjoyed traveling, carpentry work, doing odd jobs for people, and fishing.
Along with his wife, he is survived by his two children and their spouses, Debbie and Steve McDonough, of Bethalto, Randy and Melissa Jordan, of Edwardsville; one sister and her spouse Helen and Freemon McCasland, of Savannah, Tennessee; one brother-in-law Joe Emery, of Clearwater, Florida; five grandchildren Jenny (Bryan) Birdsong, Lori (Brian) Caveny, David (Samantha) Jordan, Ryan Jordan, and Jacob Jordan; and great-grandson Isaac.
In addition to his parents he is preceded by his sister Shirley Emery.
Visitation will be from 4-7 p.m. on Tuesday July 18, 2017, at Elias, Kallal, and Schaaf Funeral Home in Bethalto.
Funeral service will be at 1st Christian Church of Wood River on Wednesday at 10 a.m. with Walter McCaslin officiating.
Burial will follow at Rose Lawn Memory Gardens with the American Legion Post 214 will be doing military rites.
Memorials may be made to 1st Christian Church of Wood River Building fund.