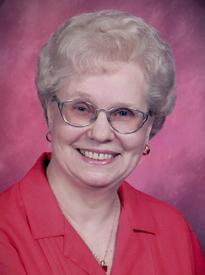 Patricia Ann (Kasinger) Laslie went home to be with Jesus at 5 a.m. on August 5, 2017. She was born on July 7, 1931 in Alton, Illinois to Oral and Eva Louise (Minnick) Kasinger, the third of seven children. She graduated from Alton High School in 1949. She married the love of her life, Lyle Franklin Laslie, on June 3, 1950 at the Church of God on Elm Street in Alton.
Pat was a founding member of Bethany Baptist Church on North Alby Street from its beginning as a mission, was a faithful member of the church family, and was a Sunday School and Vacation Bible School teacher for over 60 years. She loved flowers, was a great baker and cook, and canned fruit and vegetables. She had the warmest smile and an infectious laugh. She sewed clothes for her children and made beautiful Barbie doll clothes. She was a homemaker but also assisted her husband in his construction business and was his bookkeeper.
She loved music, sang with her sisters in church and at home, on the radio in a trio with her sister Beverly Kelly and her friend Juanita Brooks. She also loved to read books and study the Bible. God, her church, and her family were the greatest loves of her life. She always tried to see the best in people and was always upbeat.
Pat is survived by her husband Lyle of 67 years, daughter Deborah Laslie Millitello and son-in-law Carl Millitello, son Lyle Dennis Laslie and daughter-in-law Kathy Moore, daughter Diane Laslie Miller and Jay Wrubel, daughter Donna Hook and son-in-law Mark Hook, daughter Lonna Laslie Clark and son-in-law Jimmy Clark, grandchildren Patricia Condray, Daniel Millitello, Benjamin Millitello, Melissa Kuehnel, Dustin Greer, Travis Clark, Tara Clark, Eric Spencer Maxon, Hunter Hook, Chase Hook, Amber Wells, 8 great-grandchildren, 2 great-great-grandchildren, sister Nancy Hyman and brother-in-law Roy Hyman, sister-in-law Nancy Paul, 21 nieces, and 12 nephews.
She was preceded in death by her parents, sister Betty Scott and brother-in-law Edward Scott, sister Beverly Kelly, brother Harold Glenn Kasinger, brother John Olin Kasinger, sister Sharon Ray and brother-in-law Wayne Ray, sister-in-law and brother-in-law Vivian and Charles Vaughn, sister-in-law Margaret Turner, sister-in-law and brother-in-law Mildred and Floyd Crider, brother-in-law and sister-in-law John and Della Laslie, brother-in-law and sister-in-law William and Louise Laslie, sister-in-law Patricia Davis, and 3 nephews.
Visitation will be from 4:00-8:00 p.m. Tuesday, August 8, 2017 at Gent Funeral Home in Alton where funeral services will be at 10:00 a.m. Wednesday, August 9, 2017.
Pastor Steve Rice will officiate. Burial will be at Valhalla Memorial Park. Dinner will follow immediately at Christ Way Church on Airport Road in Godfrey.
Memorials may be made to Fisher House at Jefferson Barracks VAHospital or Christ Way Church. Online guest book and information may be found at www.gentfuneralhome.com