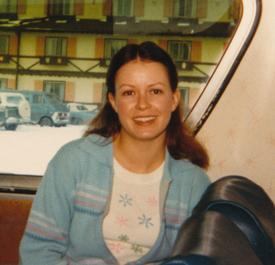 JoAnn Eubanks age 67, of Brighton, passed away on Sunday, August 6, 2017,
2:21 a.m. at Barnes-Jewish Hospital in St. Louis.
She was born on October 13, 1949 in Alton and was the daughter of the late Joseph and Jacqueline (nee: Roberger) Wilkinson
She married Michael E. Eubanks on Septemeber 26, 1981 in Alton, and was a member of the Kingdom Hall in Alton, the ASPCA, enjoyed helping and rescuing animals and was an avid flower gardener.
She was employed many years as a licensed beautician at the Magic Mirror in Alton, later served as the office manager for Dr. Beer in Wood River, and retired from Alton Memorial Hospital after serving as a clerk in the Radiology Department.
In addition to her husband, she is also survived by
a daughter : Tina M. Young of Alton
a step-son: Michael E. Eubanks Jr.
a granddaughter: Jacqueline R. Rector of Alton
a sister: Karen Lester of St. Louis, Missouri
a brother and sister in law: Brian and Cher Whyers of Chicago
other extended family and many friends.
Visitation will be on Wednesday, August 9, 2017, at Elias-Kallal & Schaaf Funeral Home in Alton from 4:00 pm until 7:00 pm with services and family members speaking to celebrate her life beginning at 5:00 pm. Memorials may be made to Alton Area Animal Aid Association.
An online guestbook may be found at www.eliaskallalschaaf.com