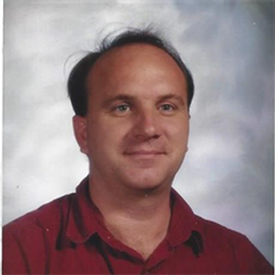 Andrew John Meyer, 52, of Chandler, AZ and formerly of Crescent City, IL passed away on May 8, 2017, at Chandler Hospital, Chandler, AZ where he had been a patient. He was born October 14, 1964, the son of Gerald A. and Barbara Schleef Meyer. He was baptized and confirmed at St. Peter's Lutheran Church, Crescent City, IL

Andrew is survived by one brother, Hanns (Ginger) Meyer of Crescent City, three sisters, Susie (Tom) Beavers of Edwardsville, Janey Risley of Brook, IN, and Katie (Brian)VanHoveln of Momence, and many nieces and nephews. Surviving, also are seven step-sisters, Tami Cannon, Kandra Rabe, Debbie
Dotson, Denise Quessennberry, Cyndi Flanagan, Brenda Hass, and Michelle Fussner.

He was preceded in death by his parents, one brother, Gerald H. Meyer, grandparents, August and Ella Meyer, Henry and Amanda Schleef, and stepfather, Bob Rabe.

Andrew was a graduate of Crescent-Iroquois High School and Illinois State University. He was an educator for 29 years at Corona Del Sol High School in Tempe, AZ. He was an avid baseball fan, visiting many major league baseball stadiums. He also loved to travel, riding the rails across America and taking
numerous trips to Germany. He will be remembered as a beloved brother, uncle and friend.

Private graveside rites will be held at St. Peter's Lutheran Church Cemetery, Crescent City.

In celebration of his life, the family will be receiving guests at Heritage Park Pavilion in Crescent City, IL, on Saturday, August 26, 2017 from 2:30 to 4:30 pm.

Memorials may be made to dnaz.org in his name.
Click here to share a memory or send a condolence to Andrew's family
To learn more about our funeral home, visit Weber and Rodney Funeral Home