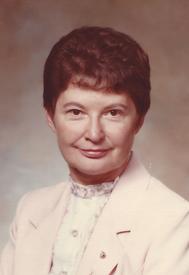 Mary Lou Dauer, 87, passed away Friday, September 8, 2017 at her home in The United Methodist Village.
Born on October 25, 1929 in Kendallville, IN, she was the daughter of Charles and Beulah (Barnum) Blumer.
A graduate of MacMurray College in 1952, she taught in the Roxana School District from 1952-1985. After retiring, she was a volunteer at Wood River Township Hospital. She spent most of her time writing poetry, some which were published in the annual edition of "Poetic Voices of America".
She married Ira "Shorty" Dauer on June 17, 1957. He preceded her in death in 2002.
In accordance with her wishes, her body was cremated.
A Celebration of Life Memorial will be held from 2-4 p.m., Sunday, September 24 at The United Methodist Village.
Memorilas may be made to Heartland Hospice.
Marks MOrtuary in Wood River is in charge of arrangements