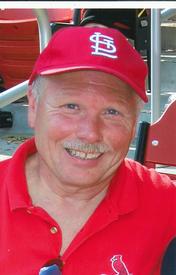 John "Jerry" Geisen, age 65, of Alton, passed away Friday, October 6, 2017 at St. Anthony's Health Care Center.
Jerry was born November 16, 1951, in Wood River, the son of John Louis and Darlene (Lewis) Geisen. He married Veronica Springman on July 27, 1971 at St. Ambrose Catholic Church, and she survives.
Jerry was employed by Williams Office Products for many years as a computer analyst. He had a passion for sports, and served as an umpire and referee for many different events throughout his life. He enjoyed movies and music, and loved to share his interests with others. Jerry is best known as being willing to help anyone in any way he could. His greatest joy was spending time with his kids and grandkids.
In addition to his wife Veronica; he is survived by a daughter and son-in-law, Mary and Jay Yoder of Bloomington; a son and daughter-in-law, John and Kristine Geisen of Godfrey; three siblings and their spouses, Sheila and Tim Starkey of Alton, Richard Geisen of Hartford, and Randy and Tammy Geisen of Fosterburg; four grandchildren, Shelby, Jackson, and Grace Yoder, and Gavin Geisen; and many other relatives and friends, especially those he made through his love of sports.
He is preceded in death by his parents.
A Celebration of Life will be held Sunday, October 22, 2017 from 1-5 pm at Gordon Moore Community Park and is open to family and friends, athletes and staff.
In lieu of flowers, memorials may be made to Treehouse Animal Rescue.
Elias, Kallal and Schaaf Funeral Home in Godfrey is in charge of arrangements.