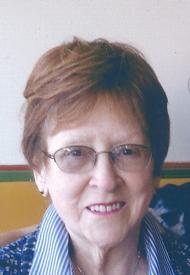 Dorene Mae Halemeyer, (nee McKenney) went to be with her heavenly father on Saturday October 7, 2017. Her last days were spent surrounded by family.
Dorene was born on April 21, 1929 in Golden Eagle, the daughter of the late William & Dora (Seidler) McKenney.
Dorene was a beautician, she began her practice when she was 18 years old in Hardin, prior to opening her own shop in her home at Golden Eagle. She enjoyed her work, she loved to fix hair and she enjoyed being her own boss. She still had customers and enjoyed fixing hair up to a month before her death. She loved visiting and spending time with her customers, neighbors, friends and family or anyone she ran into!
Dorene loved to cook, bake, and can – taking her goodies to church events and family gatherings. She also loved her flowers. She continued to work in her flower beds until her health failed over the last few months.
Dorene was a lifelong member of St. Matthews Lutheran Church and the Dorcas Society in Brussels.
She married Frederick V. Halemeyer on December 16, 1950 in Brussels, and he preceded her in death on November 19, 2005.
She is survived by a son and daughter-in-law, Gregory & Debra Halemeyer of Golden Eagle; two daughters and sons-in-law, Hope & James Anderson of Liberty, and Kimberly & Gary Devine of Fieldon; four grandsons, Shawn Halemeyer, Christopher & Mollie Halemeyer of Golden Eagle, Travis & Ashley Devine of Jerseyville, and Mitchell Devine of Fieldon; two great grandsons, Cleighton and Kaleb of Jerseyville; three sisters, Judy Peer of St. Peters, MO and her friend, Tony Moenning of Meppen, IL, Betty Halemeyer of Golden Eagle, Laura Jane Kaibel (Robert) of O'Fallon, MO, and one brother, Darrell McKenney (Carol) of St. Louis, MO; and numerous nieces and nephews.
She was preceded in death by two sisters, Irene Church, Sylvia Sherman, two brothers, James McKenney and Jerome McKenney.
Visitation will be from 5 to 8 p.m. Wednesday October 11, 2017 at Gress, Kallal and Schaaf Funeral Home in Brussels.
Funeral services will be held at 11:00 a.m. Thursday October 12, 2017 at St. Matthews Lutheran Church in Brussels with Pastor Jason Reed officiating.
Burial will follow at St. Matthews Lutheran Cemetery.
Memorials may be made to the Calhoun Ambulance fund or St. Matthews Lutheran Church.
Online condolences and guestbook may be found at www.gresskallalschaaf.com