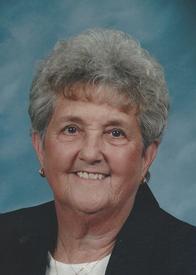 Helen M. (Greer) Emerick, left for heaven, Wednesday, October 11, 2017. Comforted by her husband, Leroy Emerick and her children, Helen spent her final days resting comfortably at home.
Helen Marie was born in Alton at her home on the corner of Central and Broadway in 1924 to Walter Talmage and Lena (Griffin) Greer. She was raised with two brothers (Walter T. and Lindsey Carroll) and two sisters (Ruby and Eva) who all preceded her in death.
Helen was a very special lady and endeared by all who knew and loved her. She was married to Edward L. Emerick, US Navy S 2/C, USS Orca (A.U.P. 49) at the USO in Seattle, Washington in 1944. She spent her adult life working as a secretary and rising a daughter and three sons. She was a devoute Christian and lifetime member of the First Baptist Church in Wood River. A die hard Cardinal fan, Helen had her dream come true when her granddaughter's husband pitched for the Cardinals. Besides her church and her family, Helen loved her singing group, "The Sweet Sounds".
Survivors closest to her are her husband, Edward Leroy Emerick; a daughter, Donna Smith (Dan); three sons, Dale (Joy), Dana (Micki) and Dean (Sheila); six grandchildren, Nicole (Will) Balcom, Ryne (Elizabeth) Emerick, Leah(Keith) Butler, Daniel, Danelle, Drew; and three great grandchildren who love and miss their Grandma Emerick. Also surviving are two special nieces, Evalena O'Dell and Eloise JoHann.
Visitation is scheduled for Friday, October 13 at First Baptist Church in Wood River from 4-7 p.m.. Funeral services will be held at the church, Saturday, October 14 at 10 a.m.
The family asks for memorials to Wood River First Baptist Church in lieu of flowers.
Marks Mortuary in Wood River is in charge of arrangements