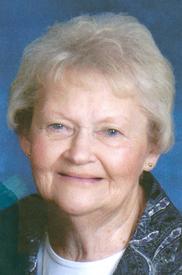 Alice "Lucille" "Lucy" Savage 84, of Godfrey passed away Saturday November 11, 2017 at Alton Memorial Hospital. She was born May 18, 1933 in Glasgow, IL to Buell and Evelyn (Clanton) Howard. Lucy worked for many years at Owens Illinois Glass. She married Royce Savage June 28, 1953 in Glasgow.
Lucille was a Member of Main Street United Methodist Church in Alton, where she was an Encounter founder and sponsor. In her free time she enjoyed sewing, cooking and needle work.
She is survived by her husband of 64 years, Royce Savage of Godfrey; son, Terry (Jodi) Savage of Sweetwater, TN; two daughters, Rebecca (David) Waggoner of Godfrey and Karen Renee (John) McCabe of Modesto, CA; six grandchildren, Jennifer (Dan) Schneider, Lisa (Kyle) Velikis, Conner McCabe, Carley McCabe, Hailey Savage (fiancé, Logan McNeil) and Grant Savage; two great grandchildren, Mason Schneider and Hannah Velikis; three brothers, Dean Howard of Glasgow, IL, Larry Howard of Barry, IL and Earl Howard of Bloomfield, IA and three sisters, Linda Sipes of Clayton, IL, Laura Balcom of Winchester, IL and Lorna Monroe of Pleasant Plains, IL.
She was preceded in death by her parents, two brothers, Donald and Merle Howard and a sister Carolyn Hester.
A memorial service will be held at 11 a.m., Saturday, November 18, 2017 at Main Street United Methodist Church. Paynic Home for Funeral entrusted with services. Memorials can be made to Main Street United Methodist Church, American Diabetes Association or the American Heart Association. Online guestbook available at www.paynicfh.com.