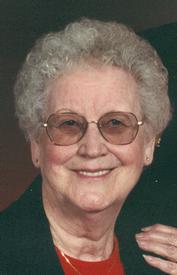 Hester M. Wilburn-Burton, 91, passed away at 9:35 a.m. Tuesday, January 9, 2018 at her home.
Born Feb. 24, 1926 in Cardwell, MO, she was a daughter of Thomas and Susan (Greer) Woods.
She married Asa B. Wilburn, Sr. in July 1945. They had four children, Rebecca A. Wilburn, who preceded her in death, Thomas (Diane) Wilburn of East Alton, Susie (Jim) Oetken of Alton, and Asa "Bryan" (Jan) Wilburn of Alton. She later married Roy S. Burton July 15, 1978 in Bethalto. He preceded her in death June 1, 2005.
Hester worked as a custodian for Bethalto Schools, a chef for Geno's 140 Club, and finally as a cook for Bethalto Care Center.
She is also survived by several grandchildren and great grandchildren; her step children Bill (Kay) Burton of Bethalto, Gary (Paige) Burton of Glen Carbon, and Mae (John) Thompson of Galveston, TX; a step daughter-in-law, Cindy Burton of Alton; a special nephew, Danny Holman of Hardin; and a special granddaughter, Heather Renee Oetken of Alton.
In addition to her daughter and husbands, she was preceded in death by her twin sister, Naomi Holman, an infant sister Jenny Woods and Jenny's twin Jim Woods and brothers J.T., R.D. and Bill Woods; and a stepson Roy Sam Burton, Jr.
Visitation will be Friday, Jan. 12 at Paynic Home for Funerals from 9 a.m. until services begin at 12 noon. Burial will follow at Rose Lawn Memory Gardens in Bethalto.
Memorials may be made to her great granddaughter, Arianna Sattari, in care of Brittany Wilburn-Sattari.
An online guestbook is available at www.paynicfh.com