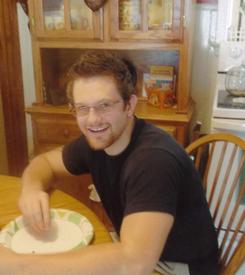 DATELINE: Jerseyvile, IL
NAME: Kristopher Robert Kanallakan AGE: 27
DIED: April 11, 2018 at 12:17 AM at Jersey Community Hospital Emergency Room
BORN: December 2, 1990, in Jerseyville, Illinois
OCCUPATION: Fireplace installer at The Fireplace Store; part-time cook at Joe's Pizza and Pasta in Godfrey, Illinois
HOBBIES: Playing guitar and writing music was his passion. Bowling, which he started at a very young age, and still loved it and was great at it. He also enjoyed video games.
VISITATION: 1:00-4:00 PM Sunday, April 15, 2018, at Alexander and Gubser Funeral Home in Jerseyville
FUNERAL: 10:00 AM Monday, April 16, 2018, at Alexander and Gubser Funeral Home
CLERGY: Pastor Bob Taylor
MEMORIALS: In lieu of flowers memorials made to the family
SURVIVORS
FATHER: Robert Lewis Kanallakan, Jr. and his companion Judy Stamper of Jerseyville
MOTHER: Debra Burrows-Powell, and her husband Alan Powell of Jerseyville
GRANDMOTHERS: Eldora Stiles of Jerseyville, Evelyn (Sis) Kanallakan-Schmeider of Jerseyville
SIBLINGS: Lisa & Tom Green of Jerseyville, Pam Kanallakan of St. Louis, Missouri, Tiffany & J.D. Oates of Jerseyville, Kevin & Nicole Kanallakan of Glen Carbon
NIECES & NEPHEWS: Dylan Blackburn, Riley & Brody Oates, Kole, Korbin and Kourtney Kanallakan, Nick and Mitch Green
PRECEDED IN DEATH BY: grandparents Richard E. Burrows and Robert L. Kanallakan Sr.
ALEXNDER & GUBSER FUNERAL HOME
IN CHARGE OF ARRANGEMENTS